Easy World: July 2007 Archives
Rick took from Wednesday through Friday this week for vacation, plus the weekend, so we have been having a good time just hanging out. I am often clueless about holidays coming up, such is the flavor of working for yourself at home, and I was surprised by the vacation suddenly offered me when I realized Rick would be home. So I decided to just go with The Flow and be on vacation, too! I can't really account for much of the time (don't know if that's because I was so in the moment or because my memory is not functioning at a high level), but I can tell you what we did Friday.

We had talked about taking a day trip to Rocky Mountain National Park and driving Trail Ridge Road, which is the highest continuous highway in the country, and surely one of the most beautiful and dramatic drives on Earth, with much of it above tree line and offering 360 vistas. The first (and only) time I was there, I got all patriotic--not in a jingoistic way, but in that "how amazingly beautiful our country is" way. And while "America the Beautiful" was inspired by the view from Pike's Peak, I was even more inspired to sing it on Trail Ridge Rd. than from Pike's Peak! I know I can't run your program, but please put a drive on Trail Ridge Road on your "must do before I ascend" list!

Anyway, we decided, for various reasons, that anywhere in R.M.N.P. on the Friday after Fourth of July would be just too, too traffic-y. So--where to go? (Some place in Easy World, of course!) Rick thought just going to Evergreen to the winery sounded good, but since I had just been there with Donna, I was really wanting to do something different and less predictable--and it just didn't feel right when I thought about it--I didn't get that "click!" that the right plan gives me. So I got out my dowsing rods and started dowsing on the various options. Rocky Mountain National Park? Confirmation of our decision not to get into the crowds. Evergreen? No. Indian Hills? No. Breckenridge/Dillon/Silverthorne? No. Boulder? No. Hmmm....I was running out of easy day trip ideas. Then, I dowsed for "Golden," and got a spongy no and I could tell that was a clue.
Suddenly, I remembered the drive that we took my parents on when they were here visiting several years back. You turn off onto the road through Coal Creek Canyon just outside Golden. Click! I knew immediately that this was the trip, and the rods confirmed it emphatically! Rick contributed the idea to drive from there to the Peak to Peak Highway and to Black Hawk and Central City, which I had never been to and had said I wanted to see. They are historic mining towns turned little gambling meccas.

So around lunchtime on Friday, we set off, with a quick stop on the way to visit Stepdaughter #1 at the Starbucks where she was subbing. As you can see from the photo Rick took from where we stopped on the Peak to Peak Highway, it could hardly have been a more beautiful day for it, and escaping to the high country was the perfect plan on a day when Denver was to be in the 90s.
Here I am--Rick took this as he was getting back into the car after taking the fabulous shot of the pond and mountains: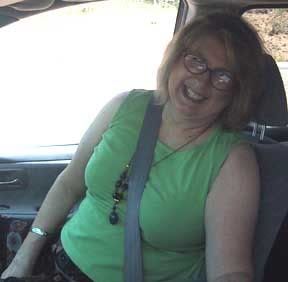 The wildflowers were prolific and we saw lots of Rocky Mountain penstemon (purple), an abundance of yarrow-like yellow flowers, and some pink ones on shrubby greenery that really had me stumped. My best guess was wild roses. We finally saw a good place to pull over where they were by the roadside, but there was a ditch between me and the shrubs, and the sun was really bright, so even the photos I got didn't definitively tell the tale, but see what you think:


When we got to Black Hawk, and then to Central City (they are very close together--a couple of miles, I think), it was enough to just drive through. While they were cute little mountain towns with cute little gingerbread houses and lots of happy flower pots and hanging baskets, overall, I did not like the energy there from the casinos, and both towns were really packed with tourists. So, instead of stopping there for food as we had thought we might, we decided to drive on to Idaho Springs and have a late lunch at Tommyknocker Brewery, one of our favorite mountain day-trip stops.
I wasn't really looking forward to the food, as it has been iffy the last few years, but knew we'd enjoy a Butthead (really great bock lager with an unfortunate name that they brew there) and was pleasantly surprised to find that the food was great this time, as were our Buttheads.
After we finished, we went to my favorite little coffee shop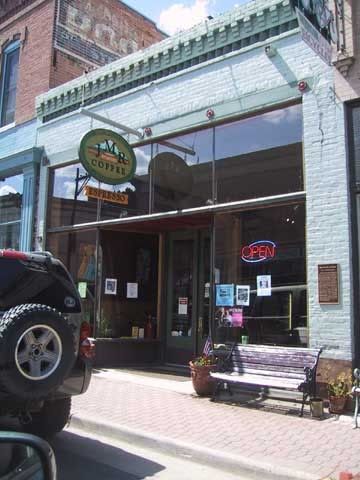 and as we sat there for me to enjoy my "MochaJavacino," we looked through a guest book from 2005 that people had written in. I wrote a little "ad" for Easy World, and added www.ILiveInEasyWorld.com to the last page. And then we headed home. It was exactly the right trip and we had a really easy, happy day, just as I knew we would when I felt the click!

It is so much fun to see how Easy World is spreading itself!
I was checking my web stats Monday, saw that the visits to the EW website had jumped, and found that some folks had visited ILiveInEasyWorld.com via this link: http://www.lolafayemi.com/index.php/2007/07/02/who-wants-to-live-in-easy-world/
So, of course, I clicked the link to check it out, and found a blog entry by a delightful soul named Lola who had just discovered EW by way of Raymond Salas' blog article, http://zenchillcom.blogspot.com/2007/05/how-to-make-your-life-easier.html, and of course, he had discovered Easy World via Sonora's interview with me at http://sonorajaynecase.blogspot.com/search/label/Julia%20Rogers%20Hamrick!
Three inspired actions: Sonora followed her inspiration to ask me for an interview, Raymond saw it and was intrigued with EW and was inspired to write an article about it, and now Lola found EW, had an uplifting experience and she was moved to blog about it. Someone asked me recently how I had time to do all my "other stuff" AND promote Easy World. The key is that I hardly have to do anything to promote Easy World. As I've said many times: Easy World promotes itself!
I am so, so, so very grateful for the Internet--what a powerful agent of Easy World! Thanks Sonora, Raymond, and Lola, for being agents of Easy World, and to all of you who are living in EW and telling your friends about it! What easier, more effective way to offer humanity a boost upward than to invite them to Easy World!
And here's a little interesting synchronicity: As I was writing this out to post to the Easy World Forum this afternoon (Tuesday), an email came in. It was from Lola, making a connection with me to thank me for making Easy World accessible! Love those synchronicities! I had intended to contact her but didn't feel the motivation to do it yet. In true EW style, I just waited for the inspiration, and while I was waiting for it, she got in touch with me (and I replied to her, of course!)! I hadn't felt energized to connect with her yet because it was her inspired action to contact me first. I love Easy World!
For all you in the US of A, have a wonderful July 4th holiday!!!