June images
I'm feeling like I should post an entry to my blog, but you know how motivational "should" is—not very! So instead of making myself write something when I'm not up for it, I'll post a couple of photos.

This is my favorite time of year in the garden. The first picture was taken just this past week looking out to my happy place in the shade: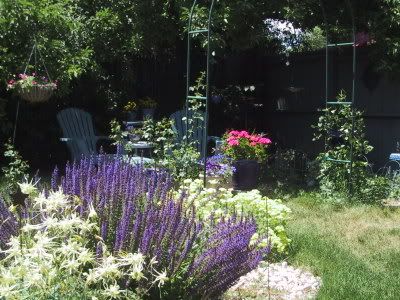 Stepdaughter #3 is on her way to France tomorrow for 5 weeks to stay with the family of a friend of her mother's, and she needed some cash, so she asked me if I had any garden work for her. Of course I had lots, but even if I hadn't, I'd have figured out something for her! She is so much fun, and we have a really wonderful time working in the garden together. I'm going to miss her!!!
The next picture is from last summer. I just love it the quality of the light in it. It has such a magical look to it. It's the path from the patio off the back of the house out to my "happy place." In this one, you can see the chairs, etc.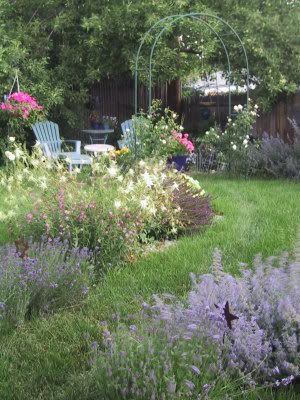 It's a much drier and hotter spring this year than last, and I'll be surprised if the pansies last much longer. But the yellow ones always seem to be able to take the heat. (In the interest of full disclosure, this photo is from last year, but this year's yellow pansies look just the same and are in the same spot, surrounded by catmint!)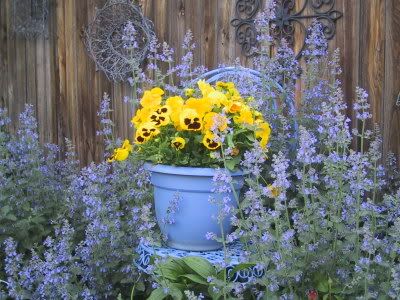 Speaking of dry, hot springs, this spring is strongly reminiscent of Spring 2002, when we got Lilah. Her "Gotcha Day" was June 8, 2002, so she's been with us now for 4 years. It really seems like last week when she came to live with us! Here are a couple of Lilah then, and one of Lilah last week. She's quite the character! This first one is of the first moment we met. I should have known right away that she 's a dog that "can't hold her licker." She started licking me then and she's been licking me--or whoever is around--every moment she can get away with it since. The next two are Lilah at 10 weeks old and Lilah now, at 4 years old.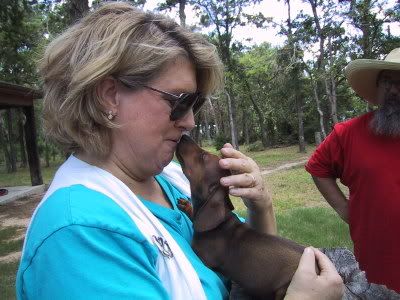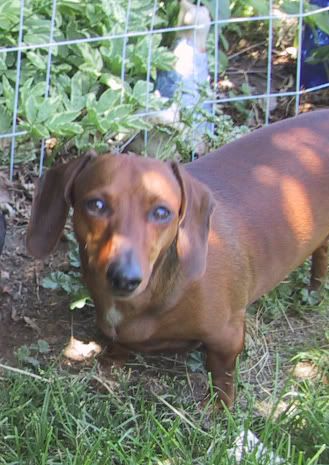 Okay. That's all for now. Hope you enjoyed the pictures! I'll make another blog entry before I leave this coming Friday for the Southeastern Spiritual Conference!