When God Spoke to Me
Back in 1982, when I was in my twenties teaching in Japan, I was many thousands of miles from home, seriously ill, and at the end of my rope. None of the multitudes of allopathic drugs and treatments I'd been prescribed by the many specialists I'd consulted had been effective, and I found myself out of viable medical options.
It was then I surrendered and turned the situation over to what, at that time, I knew only as "God." And I began listening intently for divine guidance.
Stories of other people's encounters with God and their subsequent triumphs over adversity played a huge role in seeing me through this scary time. An anonymous angel kept putting copies of a little magazine called Guideposts in my mailbox in the teachers' lounge, and I devoured them like they were the very medicine that would save my life. In a sense, they were.
Filled with stories of the miracles that occur when people seek help and communion with the Divine and the amazing results of doing so, reading them reinforced my budding relationship with my Spirit. It helped me be open to hearing the guiding God-voice within me, helped me expect miracles, and provided the support I needed to keep the faith.
My faith led me not only to physical healing, but to a literal and figurative mountaintop experience of cosmic consciousness, of Oneness. (This is described in the Introduction to Recreating Eden, available to read f'ree online.) That experience provides the foundation for everything I write about and teach today. I'm so grateful to that anonymous angel and to all the people who shared their uplifting stories in those magazines!
Thus, I am very pleased to be able to point you to
DavidPaul Doyle
's new book which is launching today,
March 17
:
When God Spoke to Me: The Inspiring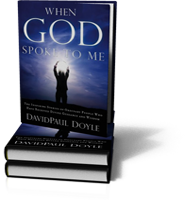 Stories of Ordinary People Who Have Received Divine Guidance and Wisdom
. I have read excerpts from it and can testify that it features powerful stories from real people just like you and I whose lives have changed in dramatic ways from listening to Spirit.

Click This Link to Learn Mor
e