Hooray!!! Choosing Easy World is OUT!!!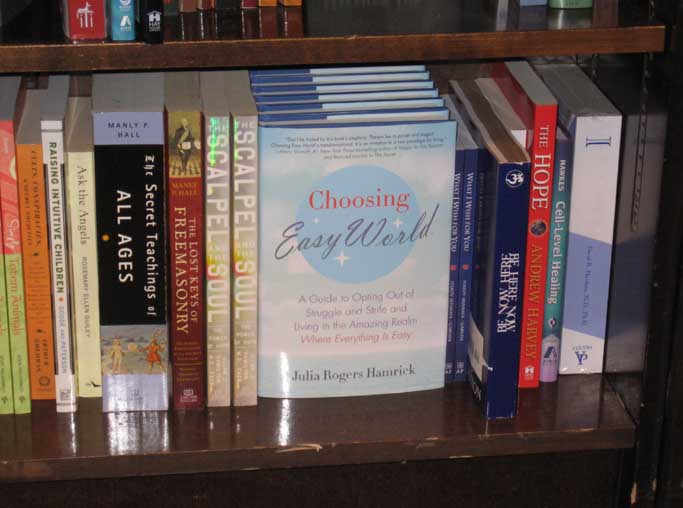 The day I've been working toward for 28 years has finally arrived!
Choosing Easy World
, my new book, and the first one I've had published by a major publisher, launches in a big way TODAY, August 3rd! (Of course, as usual, I'm writing this late at night/early morning.)
The photo above was taken by Rick at our neighborhood Barnes & Noble (and no, he did not face the books outward--St. Martin's Press paid for that!). I found out that it will be placed on the "new releases" table August 10 (apparently the B&N schedule prevented it from being there now, but I figure it will be perfect timing--Easy World is all about that!).
It's been an amazing process to get to this point, and so much magic has revealed itself along the way, it boggles the mind to try to imagine what the powerful forces of Easy World have been up to in order to pull it all off!
I have miles to go before I sleep, so I'm going to keep this brief. I hope you're going to join us for the
10 Radiant Seconds event
that I'm hosting in celebration of the book launch today. It's going to be powerful--radiating Love without an agenda always is! But doing it together en masse will be exponentially more powerful!
Also, please buy my book! When you do it today, you can collect some exceptional bonus gifts from some of your favorite teachers like Marci Shimoff (wait till you see the video she made for the 10 Radiant Seconds event! I cried when I saw it!), Gay and Kathlyn Hendricks, Joe Vitale, Peggy McColl, and more than 75 others! Truly, of all the book campaigns I've participated in, this is the first time I've really been authentically attracted to all the bonus offerings! I think maybe the ones you'll like the best, though, are the ones I'm offering! You need to go check them out!
ChoosingEasyWorld.com
I'd better get this posted and get going on the rest of what I need to do. It's going to be a BIG day!!! The first segment of the 2 webcast segments starts at noon Mountain time and I still need to get my beauty sleep.