A few hiccups and a breath of Spring!
Had a little trouble logging in last night, so though I'm posting this Sunday at noon, keep in mind, it's really from yesterday…
As you may have noticed, the blog was disrupted for awhile due to some platform changes and despite Tony's best efforts, the links within the blog to other blog entries and the links pretty much all over the Web with links to my blog entries no longer work. We're doing our best to create redirects to the entries in question, but it will just take time. If you notice one that goes to an error message, please direct our attention to it so we can fix it!
The pool had a hiccup this week. The heater stopped working. But I managed, with Rick's help, to stay mostly in Easy World with it. Luckily, Peter was in town for the weekend and was able to come by this afternoon and fix it quickly and easily, thank goodness! When he was able to get it to work after only about 10 minutes, I said, "Easy World!" and he said, "No—Easy World would be it not needing to be fixed at all." But I figure that it was EW for me, if not for him! He said he didn't mind because it gave him a chance to see us. What a sweetie! Anyway, I decided it was my cue to skip a day of swimming to give my body recovery time (and the pool time to heat back up). I am such an addict now that it feels quite strange to skip my swim. Tomorrow!
The garden is coming into its glory and it's a thrill to see. After the trouble I had with my knees on uneven surfaces last summer, I really wasn't sure I would be able to keep it up and the thought was too depressing for words! So it's quite a relief to be doing so much better and able to do garden chores. I am so happy at how easily things have come together this year, and how well I am able to get around. Here is a sampling of today in the garden:
This is my Happy Place, where I love to sit and daydream, enjoy the garden, appreciate all the work that's been done, and try not to fixate on all that still needs to be accomplished: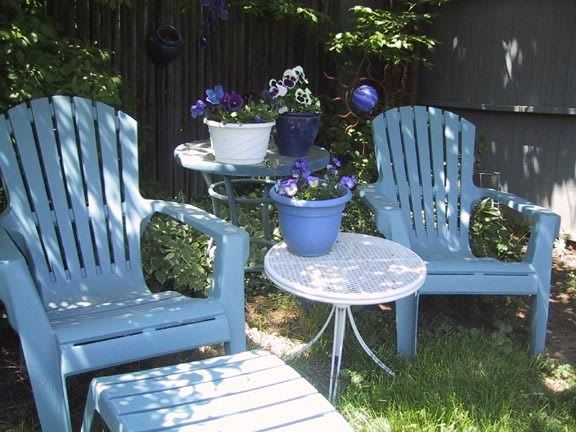 Things are just about to burst open in the Luna gardens--some more than others:
And here is a close up of a Swallowtail Columbine bloom from the photo above:
This flower from outer space is really an allium (onion family):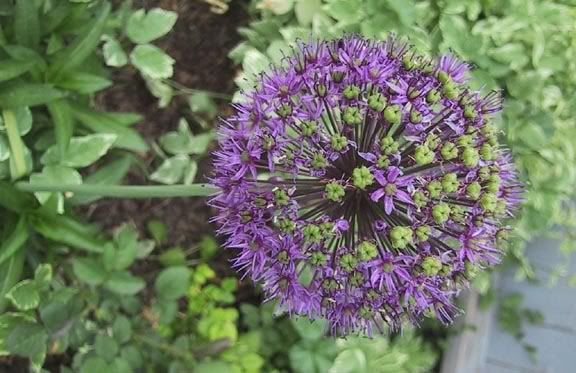 And this is the ginormous petunia I got for Mother's Day--from myself! It looks a bit heart-shaped, doesn't it?! It got beat up by some hail last week, but still going strong. All the plants around it--most of them, anyway--are preparing for their big Sprin
g show: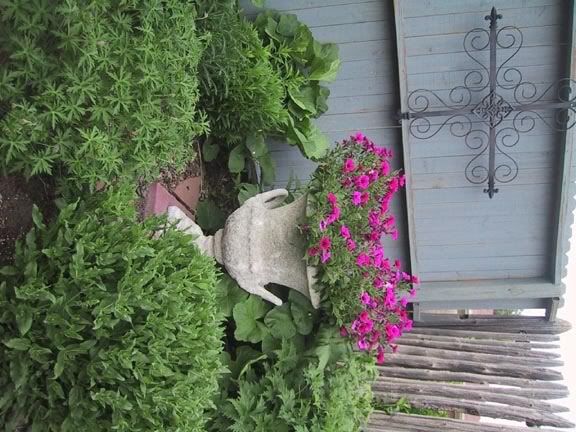 And, last, a reminder that I have attached to the post on my patio: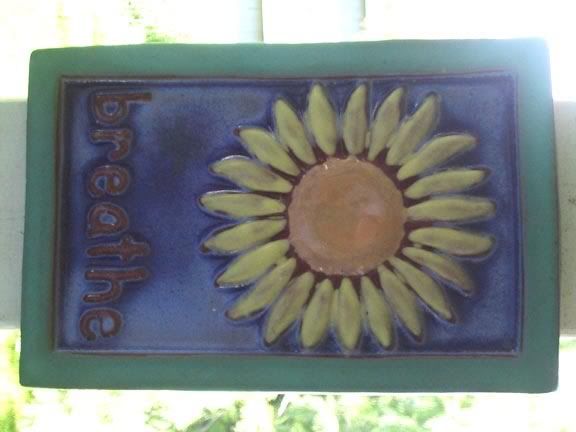 I'll leave you with that for now, and with promises of more garden photos to come!
Oh--remember that my next free teleseminar is Tuesday--hope you can make it!