My EW Christmas Tree 2007
I've been trying to think of what I need to share with you--after the last entry, you may be wondering. Well, I'm fine and have almost regrouped! Whew! And that's all I'm going to say about that for now...
I've been wanting to share a picture of this year's Christmas tree. Yes--this is the faux tree about which I waxed ambivalent in a prior entry. I must say, it's been something to get used to--the not watering it, not worrying about the needles drying out (here in Colorado, having a real tree is extra-challenging with the extreme dry air), and not worrying that it might catch fire because of the dryness and the resin. I still miss the energy of a real tree, but this one is fitting nicely into Julia's Easy World Holiday 2007! And I have fir essential oil from Young Living for when I need a little dose of holiday evergreen aromatherapy.

Speaking of Easy World Holidays, I just finished putting together the announcement for Tuesday's "Easy World Holidays" teleseminar, which will show up in your inbox Tuesday a.m. with the access details for that night. I'm so glad I'm doing it--it will keep me "honest" and devoted to staying in Easy World as preparations ramp up. I'll be baking the traditional neighborhood gifts (not ready to give that up yet!), cooking for family gatherings, wrapping presents, etc. (I just about bought out Walgreens' gift bags the other day--gift bags are definitely Easy World!), and I'll be extra conscious of walking my talk!

So, without further ado, here's the tree, as viewed from the daybed, my favorite place to relax: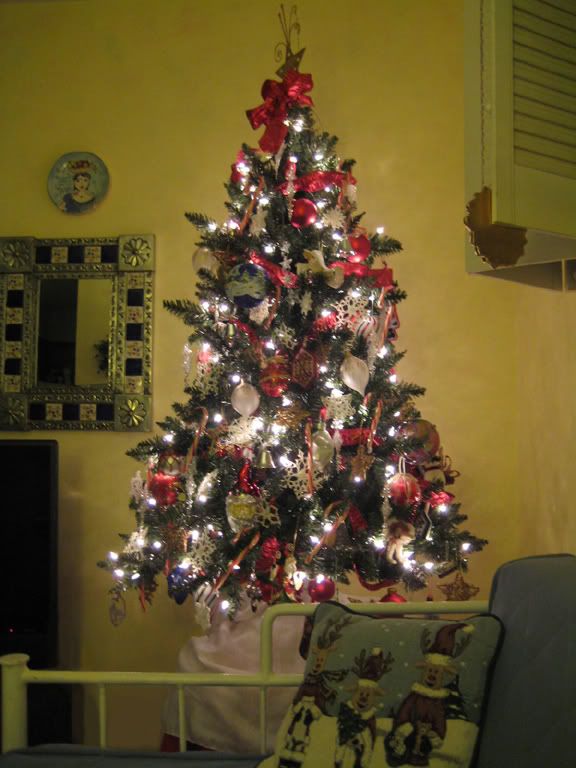 You can see my last Christmas tree, a Grand Fir, if I recall, in all it's authentic, radiant and aromatherapeutic splendor by visiting this blog entry from December 12, 2005. (I opted out of decorating altogether in 2006--and that was before I discovered Easy World!--so there's not one from last year). As I think I mentioned before, I'm not abandoning real trees forever--just until the inspiration and energy return, giving me the sign that having one will not invite me out of EW.