But it's not here yet!!!
After my last entry about Spring being on the horizon, Denver was plunged into some very cold weather! Of course! Lots of days with highs in the teens and twenties and lows down near zero.
The forecasters were calling for a dusting of snow last night (Friday), and as Rick and I left to go out for dinner at one of our favorite sushi restaurants (we're quite fortunate to have a wealth of them within just a couple of miles from our house), there was already a dusting, with very light, fine snowflakes falling. Once at the restaurant, we were seated at a table far from any window, and so we didn't know what was going on outside, and I was enjoying my sake so much, I was not aware of much beyond our little table! By the time we exited the restaurant 90 minutes later, the snow was piled up on the car and the roads had several inches on them. It had snowed like crazy! We opted to drive home on back streets, through a familiar neighborhood, where we were the only car and the snow was mostly undisturbed--a winter wonderland! Magical! (Of course, that could have been the sake, too! FYI: Rick doesn't drink sake and he was the designated driver.)

Now--this is NOT Denver--this is a photo of Sleepy Hollow, my sister's cottage on Lake Michigan.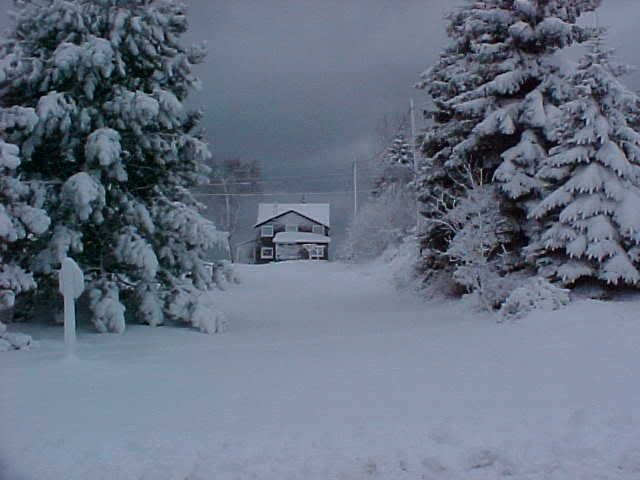 Her handyman took it last week and emailed it to her and she passed it on to us. It's taken from the road in back of the cottage--the lake is just 20 or so meters on the other side of it from the vantage point of the photo. Don't you know that's cold?! And because the cottage is not winterized--not insulated and no heat beyond the baseboard heat in one room and the little ceramic space heater we left there--it would be a true test of the body, mind and spirit to stay there right now. Fortunately, nobody's trying! I just love the picture though--such a different world than the warm, sunny, summer place I've always known. Of course, our stay in September introduced me to the chilly side of Sleepy Hollow, but nothing like what you see in the picture!

I don't have anything much to say of substance because I've been using it all to write the Winter Rising Times newsletter that will be coming out Tuesday. I've really been enjoying writing new articles and such, and I feel there's new, potent energy coming through, so be on the lookout for it. If you're not already on my email list, be sure to add your name so you'll be alerted when it's ready!