Is it time for a nap yet?
Greetings from the beautiful--and wet--Lake Michigan shore! Let me start by saying I am not complaining. What with Ike drowning Texas, a rainy Saturday here where we are safe and sound is a gift. It's almost like permission to nap--or, at least, not to do too much other than appreciate not having to do too much.

We certainly spent the days prior doing a lot. After a pack-a-thon in the days before hitting the road, we spent Tuesday and Wednesday in transit. It's just under 1300 miles from home to here and we were on the road between 10 and 11 hours the first day, and almost 13 hours the second. Here, you see the gorgeous roadside wildflowers in Eastern Colorado at 80 mph, and Rick in the driver's seat:
The first night we stopped in Atlantic, Iowa at the Super 8--our first time in one and we were quite impressed (of course, our expectations were pretty low!). This is a picture of a farm right behind the motel, which is in town. We love Iowa--mostly for the big-hearted, kind people, but also for its mostly bucolic nature: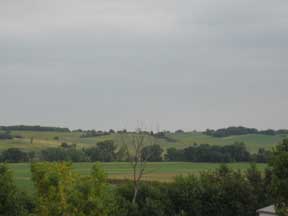 The first full evening we were here (I'm not counting the night we arrived because it was too late!), we watched a string of storms moving across the lake. Love the gunmetal sky and the silvery water. This is a view from right in front of the cottage: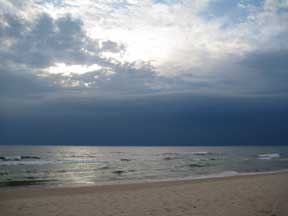 Got to spend time with Dad--he's doing great, if a little challenged with some memory issues, and was mostly on his best behavior. He did, however demonstrate that he has retained some of his crusty nature through it all and has not forgotten where my buttons are located, though I'm proud to say I did not take the bait! He left yesterday morning with brother-in-law Steve as his escort to fly home to North Carolina, and made it safely with no further traumatic airport incidents.



I have to say that as much as I was happy to see him, I was just as happy when we were able to really claim the cottage for ourselves after he left as the adults we are. (There's nothing like being with your dad to whom you will always be an eight-year-old to make you appreciate your own maturity, even if it comes with some sags, wrinkles and gray hairs!) We had thought about getting a cleaning lady in to clean after he left, but I ended up cleaning things myself and it actually felt good--very therapeutic.

Yesterday was about cleaning, claiming the space, unpacking, procuring groceries, etc., and I decided I needed a home-cooked meal after lots of fast food and takeout since we arrived, so I cooked and had Ann (my sister who is still here in her own cottage down the beach) over for dinner. By the time I got everything done I needed to do, it was late before I went to bed. So today is, hence, the "do only what you feel like" day. I'm thinking we'll have lots of those over the next 10 days. Hopefully, some of them will be "work on the Easy World manuscript" days!

So...here's a view out the window to the south this gray, soggy morning:



The dogs are doing their best to stay unconscious. They are not keen on rain.

In this photo, Rick is working a puzzle my sisters had started and mostly finished, and you can see where I am sitting to write this. (I bought the gladiolas yesterday--they are a traditional cottage "must"):
Meantime, I actually did get some stuff done today, including this blog entry, which I wrote in between things, and am planning my nap. Rick's already taking his. More when Spirit moves me here in Easy World!