Allowing clarity, lake-side
I feel I need to apologize to my regular readers for just dropping off the radar for a bit. It was unintentional. I hit an intense patch of Difficult World physical stuff in the midst of getting ready to leave for our annual Lake Michigan vacation, and just didn't have it in me to blog for awhile or do anything other than just what I
had
to. It was all I could do to just get packed and such. I've really been going through some serious challenges with the rheumatoid arthritis, my honored, if not always joyfully received, teacher.
There were times in the days before we left that I seriously wondered if I would make it up here. I'm not proud to say that intense fear gripped me whenever I thought of how in the world I'd be able to walk after being cooped up in the car for so long at a time. When it was clear
I needed to de-stress
and that my body needed to rest, we postponed our trip a day, which took some of the pressure off, and gave me a chance to prepare at the turtle's pace I was able to move.

Then we had a wonderful--but long--journey, arriving the night before my dad headed back to North Carolina from his summer here. (He's 87 now and I hadn't seen him since last summer, so making it up before he left was huge for me.) Somehow, I managed to stretch my legs sufficiently whenever we stopped to be able to get to the restrooms and back. I spent a lot of time visualizing that and it worked!

Bless Rick's heart--he drove all but about 100 of the 1400 miles up here, not to mention all the schlepping and such. I am fortunate to have such a kind man.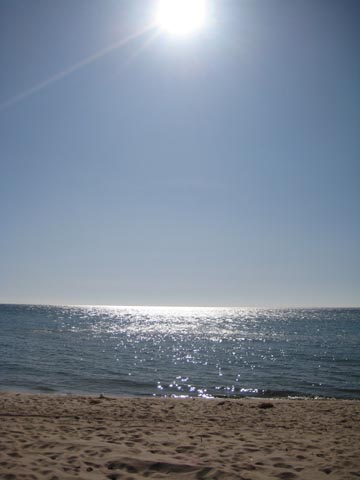 Yes--I made it here to the cottage, but apparently, I am not off the hook yet. My body has been letting me know it's still not happy or at peace. It seems I'm being called into greater integrity with mySelf and it's requiring me to be kinder, gentler and more mindful and respectful with all aspects of me. Just as in the article I sent out a couple of weeks ago, anything out of integrity will crumble as we move to this higher vibration, so best to reorganize if something needs to remain intact--like my physical body!

Time to come to terms with some things and shift some thinking and behaviors. Not completely clear on what that looks like, but I'm sure Spirit will continue to show me the way. I just keep surrendering and getting amazing feedback from that.
There is something so restful and healing and clarifying about being here by the lake's edge. I am deeply grateful to be able to come home to this place--grateful to have the time and space to rest. And to allow some solutions to present themselves as I am able to choose to be back in Easy World where all problems are already solved!
(For blog entries from past vacations on Lake Michigan, see the archives from Sept. 2007 and 2008)