Done!
The manuscript for Choosing Easy World is in the hands of, or, more accurately, in the computer of, my editor at St. Martin's! I finished it and submitted it Wednesday night, and have been recovering ever since.

Rick said instead of post-partum depression that I had "post-partum aggression" as I was way outside Easy World and quite crabby for the first day and a half afterward. I was just having trouble keeping going with my attunement schedule, etc., when all I wanted to do was rest on my laurels for a day or two. And just rest, period. Even with spending much of the last 4+ months in Easy World while writing the book, working night and day with no days away from the keyboard at all except the ones that couldn't be helped, and having a deadline, really got to me.

This weekend has been a blessing as I have done nothing but what I've wanted to do. In a few minutes, I'll be cleaning out the mouse habitat--not that keen on that, but it needs to be done and Sundays are when I do that. Earlier, though, we watched the inaugural celebration on the mall in Washington, DC. Fortunately, HBO was free this weekend. It was so very inspiring! I blubbered about 50% of the two hours it was on.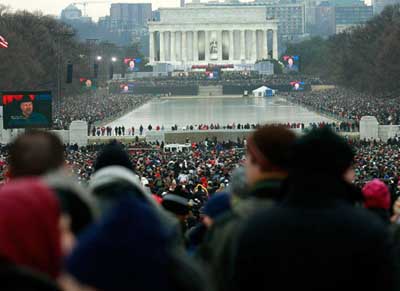 It struck me hard that we baby boomers have been really traumatized by politics, starting with all that happened in the '60s and '70s--JFK's assassination and the assassinations of Martin Luther King, and Robert Kennedy, and all the race riots and then the Vietnam War and the riots at Kent State and Watergate, starring Richard "I am not a crook" Nixon, and on and on. And then, the utter horror of the last eight years of the decimation of the constitution and the grief I have felt that I just could not feel the pride I felt back in elementary school saying the Pledge of Allegiance anymore.
But today, I was filled with true patriotic pride again--not jingoism, but real pride at the freedom our nation was founded to preserve. People were talking and singing about LOVE, for Pete's sake! And ONENESS! And faces of all ethnicities were smiling and crying together! If Barack Obama does nothing else, that he has catalyzed this and brought so many together in unity is enough to make him a world hero, which he clearly already is. I am relieved. And optimistic!